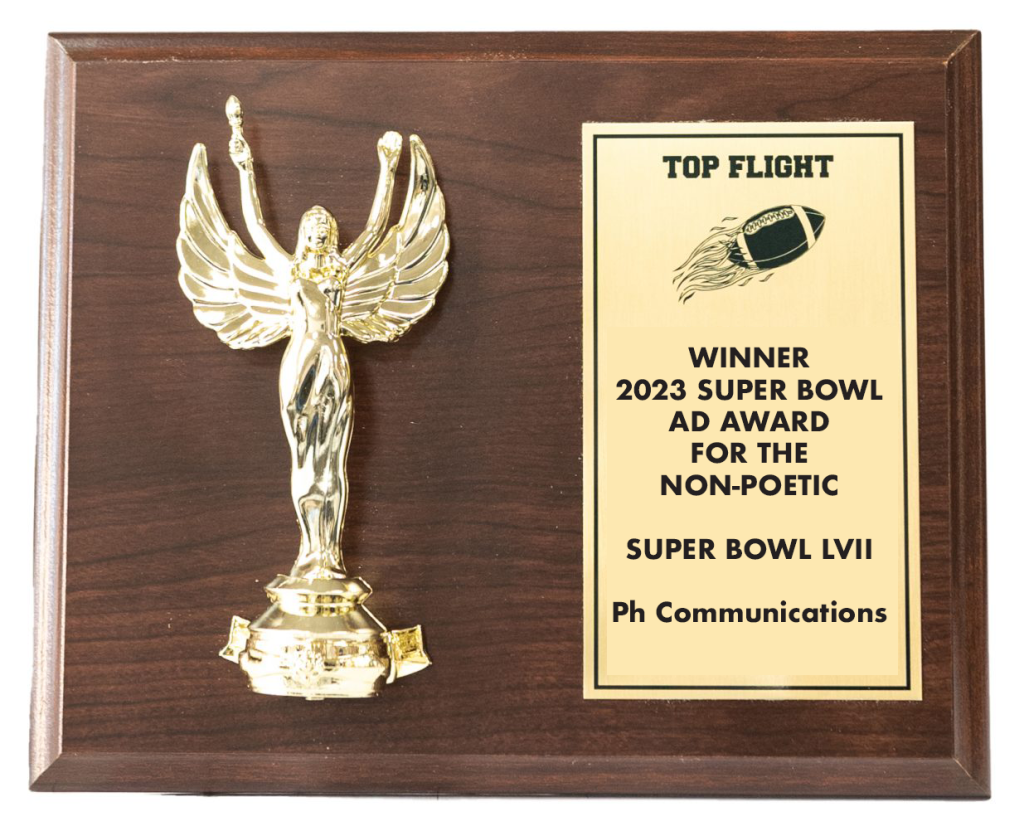 Welcome to the 2023 Super Bowl Ad Awards For The Non-Poetic! Super Bowl LVII is history and the Chiefs are Super Bowl champions! And it's time to reveal our judging panel's (me and Office Dog) top honors for this year's Super Bowl ads.
Everyone has their opinions of the best and worst, funniest and failures, award winners and money wasters, noteworthy and not worthy. But our Super Bowl Ad Awards may stray wildly from the standard accolades for Super Bowl ads. Our goal is to recognize the Super Bowl ads that stuck and the ones that sucked. Our goal is to recognize the ads that resonated with the person who watched the game first, the commercials second, and had a beer or two (from the viewpoint of an advertising guy who worked Super Bowl promotions in bars for 15 years). So, without further non-poetry…
The A For Execution But… Award
For a change, this year Dodge went light with a spot for their not-yet-available Ram REV electric truck. The ad parodied various ads for erectile dysfunction and did a nice job of it with the tagline of "Premature Electrification." Normally this is a sound Super Bowl ad strategy. But it got really old, real fast. And perhaps missing the irony, Dodge is using the term "premature" for a vehicle that isn't even available yet. This begs the question, was the ad written knowing the truck wouldn't be available? Or was it produced once they realized they'd be spending $6 to $7 million to advertise a product no one can buy yet? Either way, this ad and any impressions it made, will be long forgotten by the time the Dodge Ram REV is available for purchase.
The Office Dog Honors Award
This award honors the best use of animals (preferably monkeys) in Super Bowl ads. However, monkeys seem to be passé in Super Bowl ads these days. Aside from CGI-generated dancing animals in the Jeep Electric Boogie ad, this year's Super Bowl ads had lots of dogs. The Farmer's Dog dog food ads scored major "awwww" points with their two sweet ads. But the absolute best ad with dogs was Amazon's "Saving Sawyer." In telling the story of the beloved family dog who expresses his separation anxiety in funny, destructive ways, Amazon engaged viewers, made them laugh, and still managed to stick the landing. Though it only minimally extolled the virtues of the company, it was still better than what Amazon has run recently. And it was also one of the better ads of the night.
The WTF? Award
The second ad of the evening from game developer Limit Break was simply brutal. It featured oddly animated characters, a large QR code, and annoying music and sound effects screaming "Scan Me!" for a chance at a "free digital collectible." I'm pretty sure the NFT frenzy has already passed anyway (much like crypto), so I doubt too many people ran toward their TV with the smartphone in hand to scan that QR code. Either way, spending $6-$7 million for a Super Bowl ad, throwing together an awful, annoying ad that's nothing more than "Scan me!" was an incredible waste of money, even for a sketchy game developer.This ad may play in television market like Japan. But it was game over in the U.S. on Super Bowl Sunday.
Note, the Limit Break ad was so bad that it appears no one has bothered to put it on the Internet. Instead, to get a feel for that spot, please enjoy this "teaser" ad:
Honorable Mention: The Jesus, He Gets Us ads. It may be Sunday, but Super Bowl Sunday is not the day to schlep spirituality to the masses.
The Please Just Go Away Award
While all the ads featuring QR codes collectively earned a close second for this honor, M&Ms took the top prize. the brand's silly attempt to play on social outrage over spokesperson representation gave us Maya Rudolph selling her Ma&Ya's chocolate-covered clams instead. This was followed by a live in-game sponsorship announcement and a bring-it-full-circle spot after the game. It wasn't funny and the whole attempt to be edgy, controversial, and cute failed miserably.
Honorable Mention: Pringles' concept of people getting their hand stuck in Pringles cans was stupid (and kind of disgusting) when it was new. The same-but-different idea didn't work this year. It's time to try a new concept.
Best Superfluous Use Of A Celebrity Award
This was a tight race as there were far too many celebrities packed into too many ads. Adam Driver starred in a pointless and quickly forgotten ad for SquareSpace. T-Mobile gave us Bradley Cooper and his Mom. But Draft Kings simply crammed too many celebrities into a :30 second ad that the message and most of the celebrities got overlooked. You can make a spot work with lots of celebrities, but it helps if you also have a story to tell and the celebrities are all instantly recognizable. Otherwise, you have no form or substance, which perfectly encapsulates the Draft kings ad…
Best Unfunny Ad Based On A Movie That Actually Was Funny Award
For the first time in more than 30 years, Anheuser Busch gave up being the exclusive Super Bowl beer advertiser. While here wasn't an ad for the legacy brand Budweiser, there was a fun (but cliché) spot for Busch Light. There was also an immediately forgettable ad for Bud Light (pro tip: you can't use sex to sell swill). Unfortunately, there was also a bloated, staggeringly unfunny ad for Michelob Ultra. Michelob Ultra seems popular among golfers, so an ad that evoked the movie Caddyshack should have been a no-brainer. Instead, Michelob Ultra simply reenacted scenes from the film with celebrities (Serena Williams, Tony Romo, Alex Morgan, the old guy from Succession) reading the lines. However, other than a cameo from Caddyshack co-star Michael O'Keefe, there was nothing funny or even engaging about the spot. AB may have saved some money by giving up exclusivity, but they should have spent more of that money on creativity.
The Super Bowl Ad Awards For The Non-Poetic Water Cooler Winner
In spite of all the dreck, there were some good spots in this year's Super Bowl ads. I thought Doritos' Try Another Angle spot worked well. Amazon's Saving Sawyer (the Office Dog Award winner above) will still have people talking on Monday too. But for my money, the best Super Bowl ad this year was the first ad of the game. That was the Dunkin' Donuts ad featuring Ben Affleck. Granted, David Letterman originated the concept of a celebrity in the drive-thru 30 years ago. But the Dunkin' ad featured Affleck leaning into all his meme clichés, his Boston accent, humor, and a great kicker at the end from Jennifer Lopez. It may have run in the first quarter, but it was a smart enough ad that plenty of people will still be laughing about it tomorrow and in the weeks and months to come.
So, there ya' go… my Super Bowl Ad Awards for 2023. Some good, some bad, some creative, some cliché. Feel free to leave your thoughts, picks, pans, favorites, and failures in the comments. And, until then, when does the 2023 football season start?