Welcome to the 2022 edition of What The Tour de France Can Teach You About Advertising. This is my annual post where I use professional bicycling's Tour de France to illustrate ways to improve your advertising. You can catch up on previous entries here.
I've seen something in each of the last two versions of Le Tour that I've never seen before. That is a European team sponsor marketing their product in the United States during the Tour de France.
As its target audience is much larger in Europe, the majority of professional cycling team sponsors are Euro-focused brands. Over the years, there have been bicycle manufacturer sponsorships in the Tour de France, such as Trek or Cannondale. And there have been American brands, such as 7-Eleven and the United States Postal Service, that have been name-sponsors for pro cycling teams. However, most pro team sponsors have focused their marketing on European audiences.
But that's all changed recently, thanks to Alpecin, a German-made shampoo brand. Alpecin co-sponsors the Belgium-based Alpecin-deceuninck cycling team along with deceuninck, a Belgian window manufacturer. Alpecin brand promise says its products will help prevent male hair loss. I know this because Alpecin is maximizing its team sponsorship expenditure to market itself to American Tour viewers.
How Alpecin Is Maximizing Their Marketing At The Tour de France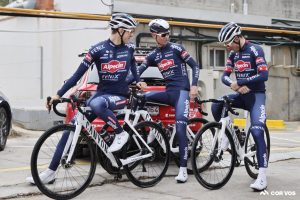 I've talked about the impact of Tour de France sponsorships before. But in this case, Alpecin has been running TV spots during the Tour that encourage American viewers to buy from their Amazon store. For a European brand, that's a smart, affordable way to sell to the U.S. market. More importantly, it maximizes the impact of the TV coverage the Alpecin cycling team earns the brand during the Tour.
This strategy paid off in a big way in 2021 when Alpecin rider Mathieu Van Der Poel wore yellow as the Tour leader for several stages. The brand hasn't gotten quite as much exposure in the '22 Tour de France, as Van Der Poel dropped out early and only Jasper Philipsen picked up a stage win for the team. However, the Alpecin TV spots have still done a good job reinforcing the brand's consumer promise (German engineering for your hair!).
What Does This Have To Do With Your Marketing And Advertising?
So what does a German shampoo sponsoring a French bike race have to do with your marketing? Follow the Alpecin example and maximize your marketing efforts. That doesn't mean running national TV spots to piggyback on your sponsorship of a European cycling team. Instead, look for opportunities to maximize the marketing and advertising dollars you already spend. Sponsoring an event? Look for ways to piggyback on that expenditure with other opportunities to promote yourself. Advertising on the web? Check out how to extend the brand recognition you build from that buy. Running in specific day parts on radio or TV? Look for sub-markets within the demographics you're targeting to enhance the brand recognition you already have.
In real-world examples, if you're an auto parts store that sponsors a local race track, be sure to also run ads in the program, sponsor other related events, or run local TV or radio spots during race broadcasts. If you're a bike shop, sponsor local rides, but also run local TV to tie in your brands with what viewers see on televised bike races (such as the Tour de France). Whatever your business may be, if you're spending money to advertise In in one venue, always try to connect the dots by extending your message to other related opportunities. If you're spending money on advertising, always be on the lookout for opportunities to build on your name recognition and increase your sales.